What is Foronum?
Foronum is a numismatic portal for coin swaps, but not only that, but an infinite number of tasks related to numismatics.
We will now go on to detail the most interesting tools of Foronum:
List of coin collectors
The numismatic collectors list has more than 10.000 users from all over the world that will allow you to search for them according to your preferences and contact them quickly. Many of them have collections or files in which you can search and find the coins you are missing. You can contact any of them from their profile.

Coin finder
The Foronum coin finder includes all coins from collectors' "visible collections". The "visible collections" are all those that users consider to be for trade or sale and are displayed to be found in the searches of other collectors. At the moment there are more than 100.000 coins ready to be exchanged.
Managing your own coin collection
As we have said, there is the possibility to create your own collections, the "non-visible collections" are the private collections of each numismatist and are not shown to the world. This tool will allow you to manage your personal coin collection. This has many advantages such as the peace of mind of never losing that information, consulting it from anywhere in the world or exporting it at any time to Excel or Pdf.

World Coin Catalogue
The Foronum world coins catalogue has more than 60.000 coins catalogued in hundreds of countries and categories. Some catalogues such as the Spanish coin catalogue or the United States coin catalogue are very complete and have a high level of detail. It is sorted by KM and maintained by the Foronum community. The collectors' collections are made from this catalogue with all the characteristics of each of the coins in your collection and with the possibility of incorporating any missing coins.

Coin identification
The identification of coins is necessary for any coin collector, in Foronum you have this section that allows you to upload photographs so that other users can help you to identify the coin. The system allows you to detect if the user who issues a valuation is trustworthy and is considered an expert by his previous collaborations.
Currency Exchange Tool
The essence of the purest collecting should be in this website, it is the easiest and oldest way to get something: the exchange. Foronum provides a complete tool that will allow you to manage the exchange by selecting coins from the collections of other users and they from yours.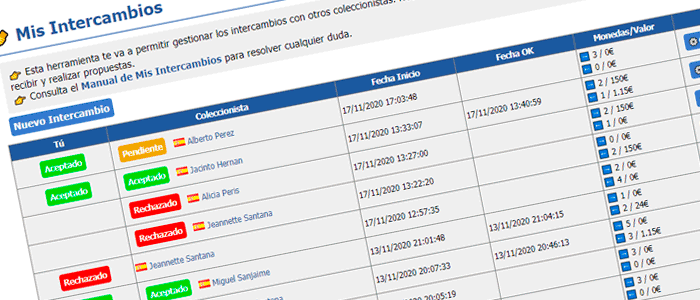 Purchase/sale of coins
It could not miss a section dedicated to the purchase and sale of coins, each user has a limited number of items that can enter in Foronum, users can buy it and start the tracking process from the control panel. You can always contact the seller to provide you with more features or negotiate another price. Foronum makes this tool completely free of charge, so there are no commissions for either the buyer or the seller.

What is Foronum prestige?
Every Foronum user should know what Foronum prestige is. The Foronum prestige is the rating that each collector receives from other collectors. Each collector can give an opinion of another collector, thus accumulating positive and negative votes and generating a reputation within the web that should be considered when making a transaction of exchange, purchase or sale of coins with that collector.
The Foronum Prestige was born as an idea to value the registered users on the web. It is very easy, each user can rate only 1 time to another user of the web, so if many users have rated you positively you will have more Prestige.
When we make a vote we have a comment that can be very useful. We can modify the prestige of a user at any time. So in Foronum we do not value the transactions but the person.
When should we value Prestige?
Especially when we complete a trade, purchase or sale transaction. The vote should always be reciprocal, so you should insist that the user with whom you process a transaction also values you.
Can Prestige be changed?
Unlike other sites, Foronum allows you to withdraw or change your vote for a member of the site. In this way we all win because we don't accumulate votes from the same person. This way of rating can be very useful to uncover "old tricks" of making a few correct exchanges and then start scamming.
What kind of rating does my Prestige voting have?
Positive Vote: Excellent swapping, great sale ...
Neutral Vote: Neither takes away nor gives prestige.
Negative vote. Scam, bad collector, ...
Where do my Prestige votes take place?
In the control panel, in the "My Collectors" section. To access this section you must be logged in to Foronum.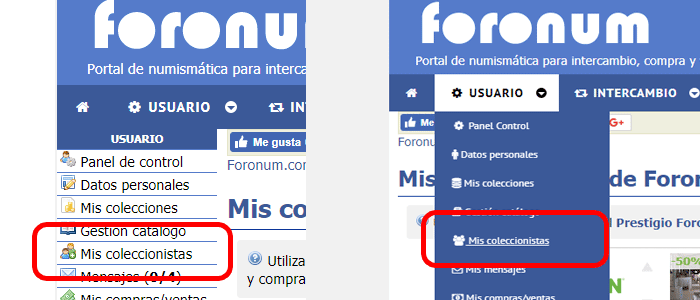 Where can I see the Prestige of a collector?
We can see the prestige of a user in various parts of Foronum:
In short, Foronum is an almost essential tool for the coin collector, with all the tools that have been described and many others that exist along with a large amount of information that will allow us to increase our coin collection in the way that we consider appropriate, either by exchanging coins, buying them or if we want to get rid of them by selling them.
The web is in continuous evolution, the community formed by a large number of coin enthusiasts makes the information grow every day.
Now more than ever, it is easier than ever to manage your coin collection from anywhere in the world, 24 hours a day, 365 days a year.