Numismatic Websites
Link to us on your website..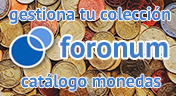 Foronum gathers a directory of websites related to numismatics. You can identify by means of the icons whether it is a personal numismatic website, a company or a numismatic shop and a coin catalogue. Click on the registration and access the file containing all the details of the website.
Actions
Register to be able to include new links.
Sending data...

Type:

Personal website |
Shop |
Catalogue