Manage my coin collection
How to create my coin collection?
If you want to trade coins on Foronum it is highly recommended that you create at least one public coin list. With the list you will be able to display your coin to all collectors and start offering and receiving exchange or purchase proposals.
To create your coin collections you will need to access your control panel "Control panel > Collections".
Click on the "Add collection" button and select your preferences from the list. Select the visibility. You can name it anything you want: "euro", "for exchange", "world", etc.
Once created, it will be added to the list and you will be able to "Manage".
You will see a form to add the coins one by one.
Remember that once you complete your collection you can always export it to Excel or PDF.
If a coin does not exist you can add it yourself to the catalogue.

What is the difference between a private collection and a public collection?
As the name suggests, the type of collection will determine how other collectors view your collections.
Public collection: visible to all collectors on your profile and in the coin finder.
Private collection: your collection is only visible to you from your control panel.
How to contact coin collectors?
To increase your coin collection it is essential to interact with other collectors. In the swaped coins you will have to send messages between collectors. Foronum makes it very easy to contact other numismatists.
Go to the collector's page. You can find according to the criteria you want in the list of collectors.
In the tab you will see a button "Contact" that when you click on it, a pop-up screen will appear to send a message. You can send up to 15 messages per day.
Once you have sent your message, you only have to wait for a reply, you will receive an email notifying you. You will be able to see your sent messages and replies from your control panel: "Control panel > My messages".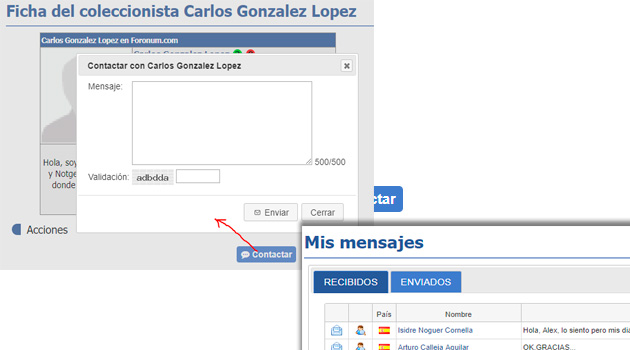 What things should you keep in mind when creating a coin collection?
To summarise, they are as follows:
You can manage collections (private and public): Control Panel > Collection Management
The coin information comes from the Foronum catalogue.
Private coin collections are not visible to anyone, they are not visible to users.
The public coin collections will appear in your coin file to exchange, in the coin search engine and in the catalogue.
You will be able to add any information about the coins to the catalogue to complete your coins.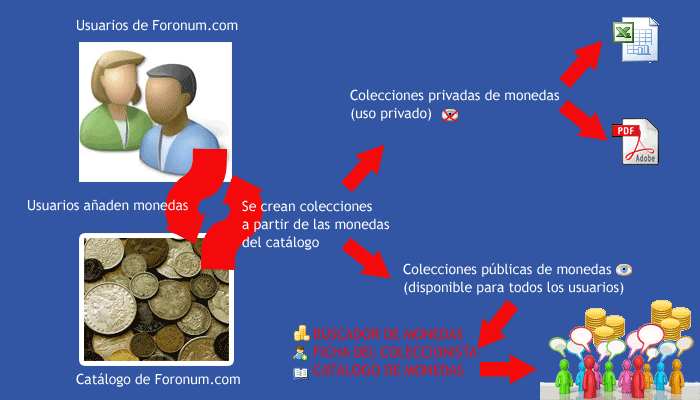 The coin does not exist in the catalogue. What do I have to do to register it?
You must register it in the catalogue. To manage the catalogue and have access to its administration, the user must be registered. From the user menu you have the "Catalogue management" tab. You have all the information in the foronum catalogue manual.