User's Manual Coin Catalogue
What is the Foronum catalogue?
The Foronum coin catalogue is a consultation tool for users to have all the characteristics of the world's coins at their fingertips.
The main characteristic is that this catalogue is made by the users, so each user contributes information in a disinterested way helping to make the catalogue grow.
Therefore there are two main accesses:
Where is the Foronum catalogue managed from?
To manage the catalogue and have access to its administration, the user must be registered. From the user menu you have the "Catalogue management" tab.
What is the KM# of a coin?
The KM of a coin is the identification number given to each coin by the Krause Publishers World Coins catalogue. The initials come from the names Chester Krause and Clifford Mishler.
This numbering is not global, but country-specific, i.e. each country starts with a KM number.

How do I add a coin to the catalogue?
1. To add a currency you must select a country.
2. Next, a new button will appear to add a new currency.

3.1. Observe the list to detect if the KM exists. If there is and you want to add a coin with a year or mint or other data that is not there, select the KM and add the new data.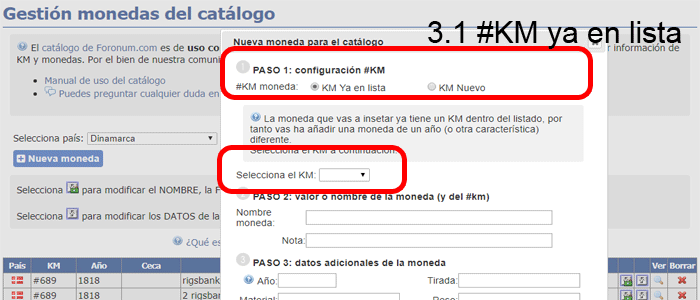 3.2. If you notice that the KM is missing and you need to add it, select the option and in addition to adding the currency data, you can also add the KM data, such as the photograph.
The changes must be approved by an administrator.
How do I modify a coin in the catalogue?
Two icons are available to manage the data for each KM and each currency. Remember that a KM groups one or more coins.
When you try

to modify a KM, you modify the data: KM number, KM letter, photograph, historical category and coin name and affect all the coins of that KM, generally grouped by year.
When an attempt is made to

to modify a coin, the following data is modified: material, weight, diameter, edge, mint, year, mintage and grade.
Changes must be approved by an administrator.